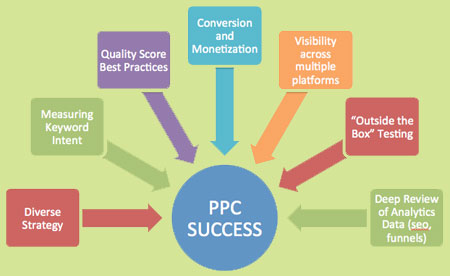 Here we are talking about "Campaigns". Campaigns that have brought in right outcomes for advertisers. It happens many times that a campaign comes and goes away without leaving any impression. But there are a few that are managed so well that they leave a last longnotion. Corporate have found the expenditure in campaigns lucrative and have considered it as cocoon of reliable Management and Marketing. What campaigns are we talking about? We are here talking about PPC Campaigns. PPC is Pay per click, a model of internet marketing in which advertisers pay a fee each time one of their ads is clicked. Essentially it's a way of buying visits to your site, rather than attempting to earn those visits.
While a number of factors determine how successful your PPC Campaign is, you can achieve a lot by focusing on Keyword relevance, landing page quality and much more. Keyword research is very time consuming but it is equally very important. Keyword research has to be relevant and should get the web traffic and the number of search results.Your entire PPC Campaign is built around keywords and the most successful advertisers continuously grow and refine their PPC Keyword list. An effective PPC Keyword list should be relevant.
Once you have created PPC Campaigns then you'll need to manage them at regular interval of time to make sure they continue to be effective. Analyze the performance of your account and make the adjustments to optimize your campaigns. Expand the reach of your PPC Campaigns by adding keywords that are relevant to your business.
PPC campaigns management is a patient task and takes money and time both. The Pay per click Campaigns in Delhi are managed by many companies but only a few give the best services to the clients and being among those few we at PPC Companies Delhi give complete opportunity to our employees to bring in innovation and creativity.
A Pay per click campaign is a popular way of attracting targeted visitors to a website and converting them into buyers. Payment is made only when a visitor clicks on the advertisement to visit the website or the landing page. How to start thinking about PPC Campaign? First you need to determine your goals whether your goals is to increase subscribers, sales or your brand awareness, it is vital to know before you start. Define a budget for PPC Campaign, make a list of PPC Keywords, and finalize keywords. Optimize PPC Campaign regularly, monitor and manage your campaign properly. PPC Companies in Delhi is the best company and till now has covered feats in the sector.
The right campaigns have gone out in the market from PPC Company Delhi and the company seems to reap more market in near future.