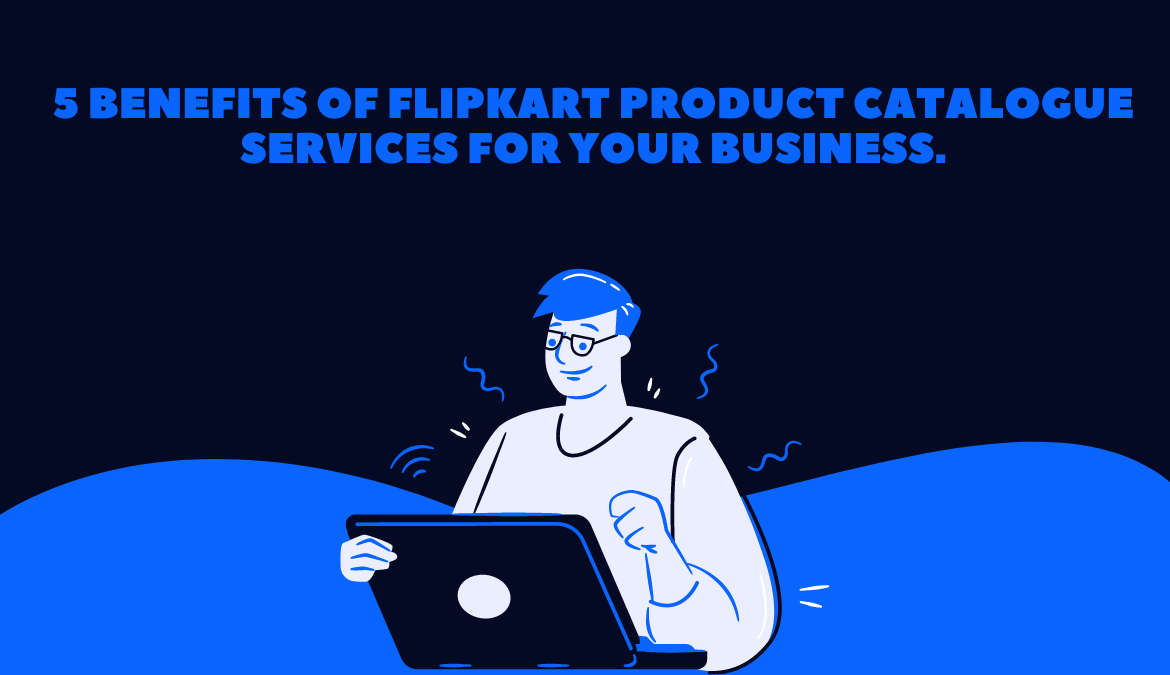 Well, if you are thinking of opening your business on Flipkart, then you have to create an attractive Catalogue. The Flipkart Catalogue service helps to grow your business and this way you will get to increase your bank balance.

The buyer's requirements are kept in the notice and it also ensures the product quality. So if you are thinking to make your Catalogue attractive and if you want to draw the attention of the customers then Flipkart Catalogue Service is the best option for you. You will be amazed to see the Flipkart product listing services. Our engrossed and enthusiastic team update themselves every time and put their great effort by working each and every second to make you feel happy. We can assure you of one thing that you will never feel disheartened with our service. So register with us if you want to see your business growing rapidly. For registering, contact us, our team will guide you in this.
The five benefits of Flipkart Cataloguing services are stated below.
Product Images
The main thing that sellers have to keep in mind that product photography is another way of attracting customers. The customers can't see or touch the products, the only thing they can do is to view the product image. Flipkart uses a high-quality camera and clicks your products photographs from different angles to make your product look even better. So the sellers should remain tension free because the benefit of Flipkart is this, it will offer you a clean and clear picture. Moreover, it will take pictures from different angles so that the customers can easily make up their choice. The Digital photo image enables induce more sales.
Listing Services
Another benefit of Flipkart product listing services is that it lists the products. Flipkart lists all the important data like price, size, colour, dimensions, warranty and everything. So sellers can rely fully upon Flipkart. It basically Compiles data about commodities, uploads images and succinctly written yet instructive and convincing text to the product pages in compliance with template norms of Flipkart. You can get the brand approval from Flipkart. It gives minute details because the customers are unable to touch and feel it. So, in order to satisfy the customers' quench of thirst, the most outstanding thing that Flipkart does is listing services.
Detailed information
The best thing that we do to help you in thriving your business is that we provide you Flipkart Boost Services which will assist you to drive traffic and it will also help you in improving conversions on your pages of Flipkart products. We will also help you in making the best offers by keeping tabs on prices because this is a competitive marketplace. We will aid you in attracting your product information so that customers can pay a visit to your products. We will also design your product in such a way that will obviously attract buyers. The buyers will definitely like to contact you again and again.
Product Portfolios
Our team is highly specialised in creating customised product portfolios from where the product can be launched or eliminated. We provide accurate information to the buyers. We take care of every minute detail so that you can prosper in your business and shine yourself. The customers are not able to touch and feel the products, so the only thing that they can do is to read the details which are provided in the product. We are happy to help you in this case. Just leave everything on us, we will do the product portfolios for you in such a way that whenever a customer lands on the website, he or she will get to visit your product.
Design functionally
The Flipkart Catalogue Service gathers all sorts of information about your products like documents, file, PDFs, they also collect information about dimensions of the product and colour variations. Every seller desires to get more and more customers. What you are doing is only to impress the customers with your products. We are here to do that for you. You can remain tension-free because we will deal with these things. We will link your profile with the customers by showing the catalogues. The catalogues are specially designed and we keep a special eye on that. When any customer is visiting your page, they will not be able to view all the information chronologically. So what they do is that they add the product in their cart. So the role of Flipkart Cataloguing Service is highly commendable. They will keep the site design operational, functional and user-friendly. This way the customer will also find it easy to reach you. 
Frequently Asked Questions
How can I create a product in the Flipkart store?
If you seriously want to create a product in a Flipkart store, then at first you have to register yourself as an authentic seller in www.flipkart.com. Some documents are required for verifications, like passport size photographs, aadhaar card, voter card etc. After the confirmation from the Flipkart, you can be called a registered seller.
After that, you have to list your products under the specific product categories. Suppose if you are willing to sell garments, then you have to visit the cloth sections and upload your product there. If you want to sell your electronic gadgets, then you have to put your product in that section. This way all your products will be listed on the website. When the customers will search the products, they can easily find the one they are looking for. You have to get the catalogue service from Flipkart, then you can attract the customers.
How to list products in bulk?
Flipkart product listing service is done one by one and it looks excellent originally. It's a good knowledge experience, particularly for new sellers to comprehend all the Flipkart listing things. Up to 5 or 10 products can use the single product listing. Beyond that, it is a complete waste of time as well as energy. 
If you want to add products in bulk to the Flipkart catalogue, you have to follow a series of tasks. These are stated below.
Choose the product category (vertical) & brand.

Now Download the latest template (excel file) for the category of products.

Now Edit the file to Update each product's information.

Now Upload the excel file.

You have to Wait for the file validation process.

You should Request an excel sheet of QC passed products.

Now the Download system generates excel sheets of QC passed products.

You have to Update the pricing info of all QC passed products.

Now Upload the excel file and your listings are active now.
These are the exact steps a seller has to follow.
Bulk listing is the quickest way to add products to Flipkart and one can add thousands of commodities in one go.
What is Flipkart Catalogue service?
Well, if you want to be a seller, then the first thing that you have to do is take the service of Flipkart Catalogue service. The catalogue service provides- 
Account Creation – You have to create an account and company profile with the selected information and project a high-quality image. After that, the processing of brand approval(GTIN) is done by us.

Product Listing and Live Products – Flipkart compiles all the information about products, upload images and briefly written yet instructive and influential text to your product pages in submission with template norms of Flipkart.

Create Catalogue – you have to create professional catalogues with high quality and impressive portraits as well as brief text.
What are the benefits of Flipkart Catalogue service?
There are lots of benefits that you can get from Flipkart Catalogue service. If you are a starter and want to enhance your business, then connect with Flipkart. Flipkart uploads the fresh and high dimensional pictures of your products. They click pictures from every angle so that the buyers could not get confused. Other than that, they write every detail of the product. The product listing service is also performed by Flipkart. Other than that, one more benefit is that they give full details of your products daily so that whenever the buyers land on the website, they can easily get to see your product first.
Is the Flipkart Cataloguing Charge-free?
Flipkart Charge for Catalogue service is absolutely free. Basically, you can start your business without any investing money. Flipkart only charges a small amount of fee for your online selling. So in general, you can invest zero to start your business and this way you can enhance it as well. But if you hire professional photographers for clicking the pictures of your product, then they will obviously charge an affordable fee. Otherwise, for a listing of products, Flipkart doesn't charge anything.